One of the most exciting bands to emerge from Sacramento's vibrant indie-rock scene is the Victorian punk duo known as Agent Ribbons. Consisting of Natalie Gordon on guitar and vocals and Lauren Hess on drums, the two pound out a singular sound reminiscent of the White Stripes lost in Alice's wonderland. Their sparse yet driving narratives have a surreal tint, often making the unlikely leap from children's story books to classic rock and back again. Gordon's guitar playing sets a perfect stage for her voice which unexpectedly leaps from low whisper to surprised yowl in a single phrase while Hess' metronomic drumming is steady and unique with unpredictable patterns and explosive fills. The two have carved a singular place for themselves on the West Coast with a rigorous touring schedule and instantly recognizable image. While local scenes fluctuate and disappear, the fortunes of these two talented musicians are likely to only rise. We caught a fleeting glimpse inside the brains of Hess and Gordon before Agent Ribbons make their appearance on the Ladyfest stage.

Sasha: How did you get started playing music?


Natalie: When I was five, my parents inherited a piano from my deceased great-grandmother. Despite the fact that we were dirt poor and living in one of the worst neighborhoods in Sacramento, they scraped up enough money to put me through piano lessons in hopes that I would have a career as a classical pianist one day. I think my mom hoped that I'd be a musician because her father--my grandpa--was and is a classical guitarist and she grew up admiring him. Anyway, I detested my piano lessons but always took great pleasure in writing my own little ditties about animals and holidays instead of practicing my watered-down versions of Ode to Joy and Rondo Alla Turca! I was later accepted to an experimental charter High School called The Performing and Fine Arts Academy where they encouraged me to learn how to play guitar. After eleven years of piano lessons, I gave it up and have not played since, though I do hope to have a piano again someday.


Lauren: My mother is an amazing classical guitarist, so I was able to learn a few chords from her at around age 12. I was obsessed with Nirvana, Hole and Sonic Youth and would spend hours watching music videos (MTV 120 Minutes was the BEST) to try and figure out the songs. I've never had any sort of lesson in my life, I just decide I'd like to pick up an instrument and jump in. Drums are a recent addition to my musical arsenal, I've been experimenting with the traps for about 3 years.


S: Your lyrics are amazing, with complex stories and intricate ryhme schemes; I assume you have a background in writing. What/who are your literary influences?


N: You know, no one ever asks me about my literary influences! Reading has definitely shaped my songwriting more than anything else, I'm sure. Growing up, I was very absorbed in fantasy and the macabre beauty of the writings of The Brothers Grimm or even Philip Pullman's 'His Dark Materials' trilogy. Later, I cultivated an appreciation for poetry--both free verse with tidy metaphors as well as smart little rhymes. I loved this Polish poet named Wislawa Szymborska, as well as Rainer Maria Rilke and the wise but naive insights of Kenneth Patchen. Most of the literature and art in general that I am most attracted to appeals to me because it mirrors the immeasurable innocence of everything that is alive while acknowledging the sinister and evil in everyone. That's probably why I was so obsessed with 'Demian' by Herman Hesse as a young adult. Even still today, I find myself undecided on whether I wish to be a virtuous hero-type or a world-weary villain! The truth of the matter is, we are all a bit of both, and you'd be a terribly boring person for this to not be the case.


These days, I've been reading the very clever rhymes and antecdotes of Dorothy Parker, as well as plenty of Tom Robbins and Jane Austen. I think many people are uninterested in reading Austen these days because her storylines have been reinvented and exploited over the years to such an extent that it is easy to believe that there is nothing fresh to be found in 'Pride and Prejudice!' However, her perspective is sharp and witty, not to mention that the 'Austen vernacular' is extraordinarily unique. I find her stories irrisistible because of this and I feel like a more accomplished, stylish smartass after putting down one of her books!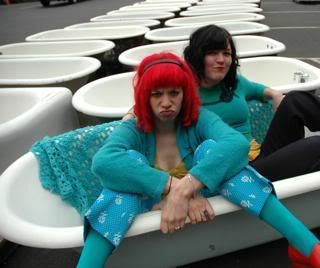 S: What is your songwriting process?


N: To be honest, your guess is as good as mine these days! I used to write songs almost always by making them up off the top of my head and then trying to put them to music later. Sometimes I might even find a catchy little tune and then put previously-written lyrics in there. Lately, though, my mind has been a jumble and I've been trying to overcome a lot of self-doubt and second-guessing, which is the number one villian of creativity! I have a whole cassette of song-pieces that have yet to be finished and my process has been different for each one.


L: With Agent Ribbons, Natalie brings in a song or idea and we work out the drum parts and arrangement together. Since there is only two of us, we pay close attention to the dynamics of each song. Our interplay is extremely important. We are anxious to add my vocal harmonies, which will add a new dynamic and will certainly be a challenge for me! I have an ongoing solo project as well that I am working on, low-fi fairly noisy sad songs. There is so not a process that it almost is a process! If that makes any sense.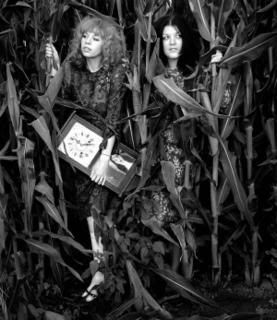 S: What is the music scene like in Sacramento?


N: Well, it could certainly use a breath of fresh air, that's for sure! Sacramento is a really wonderful, magical place and there's a heavy sprinkling of inspiring folks living there. The music scene is in constant flux, and it's undulating downward right now; but I hope that just means that great things are in the making! Every community needs not only the right kind of venue in order for art and music to thrive, but it also needs artists to stick around in order to inspire and nurture younger generations as well as continue to contribute to the scene that supported them. It seems to me there's an 'abandon ship!' mentality that has infected my music community, and it is doing a lot of damage.


L: It goes in waves. Right now, we are on the cusp of greatness.


S: I know that you work your booty off doing all of your own promotion and touring constantly. Can you talk about what it means to be a DIY operation?


N: It means learning a lot of lessons the hard way, especially for a person like me! I'm a Saggitarius and am generally very anxious to start a million projects and never finish them. It is difficult for me to discipline myself because I begin to imagine that my freedom is being infringed upon if I have too much to worry about. Lauren and I really balance each other out in many ways since she tends to be frugal and pragmatic--the exact opposite of my own characteristics! However, we still have a great deal of trouble financially, trying to survive but also being our own investors. I'm always in debt to someone while simultaneously saving for something Agent Ribbons-related, and we regularly face unanticipated misfortunes that shed light on how naive we are. Our recent deportation from the UK due to the fact that we neglected to sort out work Visas is no exception! Being DIY can sometimes feel like a nihilistic experiment to determine how many wrong ways there are to go about something, but at least we're narrowing it down! And I think we've done a few things right, to our credit.


L: I have subscribed to the DIY way of doing things since my first band in high school. When you dont have money or label support, it is imparitive that you take control. As stressful and daunting it can be at times, doing everything yourself means FREEDOM.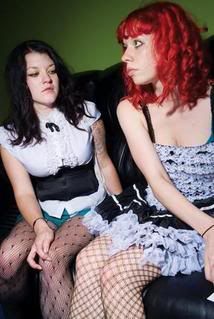 S: How did you two find each other, and what inspired you to start a band together?


N: We ultimately met at K Street Records. I was in dire need of money as usual and told the owner that I had professional experience painting walls (not true). So, I was hired to tidy up the store's appearance, which is like being a one-legged man in an ass-kicking contest! The building was in a foul state (it was torn down less than a year after I painted it) so not only did I half-hazardly repaint it, but it was also my duty to dump out numerous buckets collecting rainwater throughout the record store (which, by the way, was beneath four other condemned floors that the water had passed through first!). Picking dead bats out of the bins themselves was also not an uncommon chore, and I think this might have even been the conversation piece that brought Lauren and I together...I'm not entirely sure about that...


Anyway, we chatted often since she was a regular customer, and at some point she relayed that she had recently purchased a drum set for the first time. Since I was only just getting back into music myself, I invited her to play with me at my first show in over a year, and she was willing. The show was at the House of Shields in SF and was well-recieved, so we decided to start a band! The rest is history, I guess.


L: We met through mutual friends at a record store. I had been tinkering with a drumset and Natalie knew that I played music. She asked me to join her for a show in San Francisco a week later. We practiced once and the show went better than it should have been! After that, we decided we wanted to make the band a regular thing. We got along so wonderfully both musically and as friends, it felt right from day one.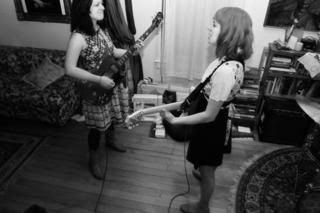 S: Do you think that your gender affects your professional life in any way?


N: Of course it does. We very rarely encounter a show that does not bring this to light in some way or another, which is annoying. Young ladies in pretty dresses stereotypically do not run their own careers
or adequately play instruments, and we are treated accordingly.


Sometimes, if we have a male friend in our company, promoters will immediately assume that the dude is the one in charge and attempt to pay him instead of us at the end of a show. A while back, we had a male tour manager and as long as he was around, sound engineers would ask him all the questions about the drumset, placement of the amplifier, etc. regardless of whether or not we were standing right next to him! We are often booked on bills with music that has no relation to what we do, simply because the other acts are female, and it is all too common to hear people exclaim their shock over the fact that we actually play our instruments or that we rock out at times. There have been so many people that have said to us, "Wow, I thought you two were were both just singers that were going to do some folksy stuff!" and I really feel embarrassed for them.


L: My gender affects many aspects in my life. Women are still considered second class citizens. So much has been accomplished this century as far as women's rights and civil rights, but we are far from equality. I do feel lucky to exist in Northern California where there are more progressive thinkers and attitudes than most of the world. But there is sexism everywhere, even in 'indie" communities. American Apparel has made hipster sexism seem cool for a new generation,for example. In my first band in high school ten years ago, I feel we faced more sexism that I have faced with Agent Ribbons. I remember guys would call out at us "show us your tits" (to which, I would my riot grrl self would reply " fuck you, show us your dicks!", one time in the presense of my grandmother and aunt who had come to the show, oops.) and telling me how to turn on my own amp and where to place a microphone. Even though I havent felt as many extreme and ignorant displays of sexism, it is still a factor. There are doubts surrounding our playing abitlity because of our gender and especially because of our feminine appearances. Women are pitted against each other, forced into categories, or simply dismissed.


Oh goddess, I could write a 50 page paper on this...I will stop now for the sake of actually finishing this questionnaire!!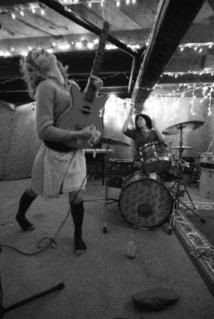 S: What keeps you going, despite some of the adversity that you may encounter in this notoriously difficult field?


N: Probably the exciting, unpredictible circumstances we end up in so often, as well as all of the unlikely friendships we've gained as a result of being performers and travelers. I definitely encounter the
occasional grim existential crisis now and then, but what else am I going to do? Someone once told me that the best way to secure a future as an artist is to never allow yourself to acquire any useful skills. If you do, you'll more than likely end up relying on them. Now, I am keen on learning new things and acquiring as many skills as possible, but I'm trying to put off my most useful areas of interest for as long as I can bear!


L: *cheesy cliche alert* the LOVE of MUSIC. honestly. and touring.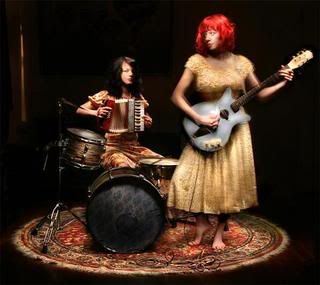 S: Who are your musical/artistic heros/ heroines?


N: Dame Darcy, Edith Beale, George Sand, Edith Piaf (Her demise is less than inspirational, of course, but she is a romantic symbol to me), Anais Nin, and many others I neglect to recall right now.


L: I have many, but here are a few.......

Mary Timony, The Slits, Team Dresch, Nina Simone, Exene Cervenka, Bikini Kill, Azita, Sleater Kinney, Lydia Lunch, Nico...

and a few awesome dudes... Brian Eno, Robert Wyatt, The Clash, Lee Ronaldo, The Beach Boys.


S: What are some of your other interests/ art forms?


N: Ever since Agent Ribbons came into being, I have unfortunately had little time and even fewer resources to pursue my other interests. However, I would very much like to be a quiltmaker, a vegetarian cook and eventually get a Holistic healing education. I was an art history major before I dropped out of college, but that was short-lived and I think I'd rather visit a museum than work in one. Someday, I will
write a children's book.


L: I love making jewelry and paper collages. For the first time in my life, I am extremely inspired by film.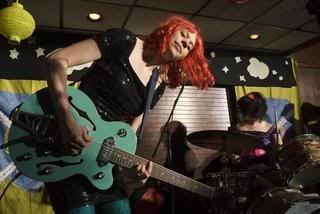 S: Fave Saturday night record?


N: Well, if I was a stripper, I'd have an entire act to the music of Nancy Sinatra's 'Sugar' album.


L: Well, this may be cheating, but here's a Saturday Night Play List: 'Dance' by ESG, 'Fake Fight' by Team Dresch 'Get Yr Freak On' by Missy Elliot and 'Respect' by Erasure.



S: Fave Sunday morning record?


N: I love listening to Bach because I love the harpsichord, but I also have a quasi-embarassing soft spot for Medieval Babes! Lauren will be embarrassed that I told you this.


L: Nico 'Chelsea Girls' or 'Mountains' by Mary Timony.


S: What advice would you give to girls who want to grow up to become rock n' roll stars?



L: Commit to it in every aspect of your life. Know your history. Support other women playing music, don't feed into competition or envy.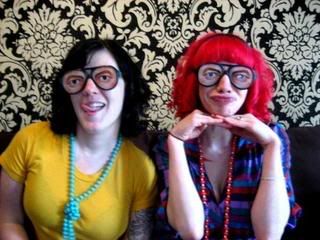 Agent Ribbons will perform as part of our Ladyfest Nevada County evening concert. Show starts at 7pm!


Interview by Sasha Soukup and Chris Streng, Sasha and the Shamrocks