It is a rare person who lives their art form completely, but Catherine Scholz is not your average woman. She is not only a music educator and music therapist, she is an award-winning singer-songwriter. Her new album "Whirlwind Girl", won Album of the Year in 2008 at the Northern California Artistic Achievement awards ceremony (aka the "Grassies"). Crossing genres of folk, jazz, pop, classical and country, "Whirlwind Girl" is a heartfelt collaboration with guitarist/engineer Michael Logue of SunSound Studios. Here is a glimpse into Catherine's inspiring life!
Ladyfest: How did you get started playing music?


Catherine: I started 8 years of piano lessons at age 6, after our church music director noticed I could play melodies by ear. For the next 11 years, I was very involved in church music as a soloist and in instrumental and vocal music choirs. In public school, starting in 4th grade, I played the euphonium (baby tuba). In high school, on that socially ostracizing, yet strangely satisfying instrument, I auditioned for the Greater Milwaukee Youth Wind Ensemble through the University of Wisconsin-Milwaukee. With that group, at age 15, I had the opportunity to tour in Europe. During college at the University of Minnesota-Minneapolis, while I was studying euphonium performance, music therapy and music education, I started performing as a backup singer in a female-led, co-ed band called "Barefoot and Pregnant." The front person of that band was veteran singer-songwriter, Mimi Kniaz (also co-founder of Business Ethics Magazine), who invited me to play during her coffeeshop gig breaks. When I moved to Illinois for my music therapy internship, I started playing weekly at a coffeeshop run by Brent Young and his wife, actors from Chicago. For six months, though they were struggling as a business, they fed me bagels and coffee and always put $ in my tip jar. I've been performing as a singer-songwriter ever since.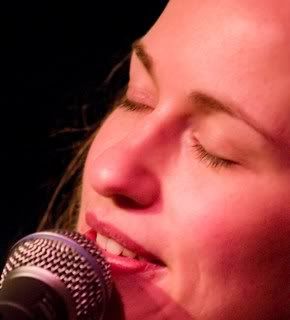 L: What do you enjoy the most about your art form?


C: Let's be honest, it feels so good to just sing your heart out! But the thing that keeps me onstage is the response from the listeners. Usually if I have just one person sitting in the audience who has been moved in some way through my performance, I feel satisfied. Now the reasons for writing a song are entirely different and usually involve some intense need for personal self-expression.



C: What is the most challenging aspect of being a singer-songwriter?


L: Probably overcoming the mental construct that I am an American musician who's talented, but not (yet) world-renowned - that I need to be a household name to believe I'm successful. This absurd notion gets in the way of just being present to my process and to my listeners. Another obstacle is when I witness other female singer-songwriters performing and I start to feel competitive. You know, making music is a process of creating harmony. I have to keep reminding myself: There is enough bandwidth for every woman to have her own sound.


L: Where do you get your inspiration?


C: My material has come primarily from my personal intersections with external reality as perceived through all my many colored lenses. Inspiration to keep performing comes mainly from the listeners and other performers. That being said, in general, inspiration can come from anywhere at any time and I am always taking notes. It seems important to also acknowledge that it takes courage for the writer to write, the singer to sing and for the listener to hear something that may move him/her.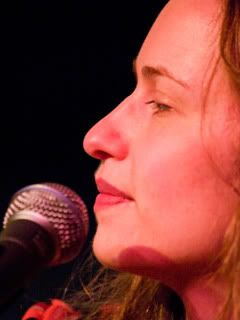 L: Do you feel that your gender has impacted your professional life in any way?


C: Gender issues affect us all, as with race, nationality, creed, etc. Most of us have stereotypes that can get in the way of perceiving someone clearly. If being in the category of "female" has impacted my music career in any way, it's probably been both good and bad.


A local promoter once wrote in an email, "You're a young female singer-songwriter, you should do well." I can't help but feel a little sad that some people believe my success would be primarily tied to my gender and age. That being said, I hope that female musicians of all ages, shapes and looks are being given equal opportunities in music. One thing is clear to me: I want the essence of my songs to come through to the listeners.


L What advice would you give young women who aspire to be singer-songwriters?


C: Here are my suggestions for success as a female singer-songwriter: It is so important to have good mentors to look to for guidance - in this case, female musicians or similar artists who have been writing and performing for a long time, have integrity, and are willing to give you support and advice when you need it; a spiritual practice of some kind for dealing with challenges on the way, and just one person (or animal) who believes in you so completely that they would give you a standing ovation even on your worst night. Oh yeah and one more thing, the ability to wait long enough for your goals to become reality.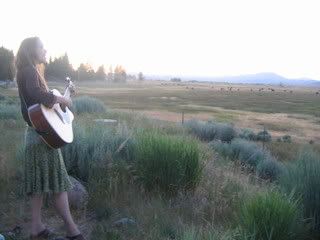 Catherine Scholz will perform as part of the Ladyfest Nevada County evening concert. Show starts at 7pm.


Catherine Scholz is an award-winning singer-songwriter & music educator who muses in the Sierra Foothills of Northern California. You can download her latest release on ITunes or buy an autographed CD directly from Catherine through GoogleCheckout.


Also, you can connect with Catherine online at:

Twitter

Myspace

Facebook

and Linked In.


Interview by Sasha Soukup