Dominique Del Chiaro is a woman who is dancing through life to the beat of her own drummer-- and what an awesome beat it is! A professional dance instructor and performer, she created and owns the dance companies Salsa Sierra and Razzmatazz Swing. She has been teaching salsa/swing/ballroom for over 10 years and group fitness (including zumba and world rhythms) for over 20 years. This spicy lady dances with a professional dance team in Sacramento called La Evolucion, and she has a local dance team called Salsabomba. Here we learn about how Dominique came to her unique life of rhythm and motion!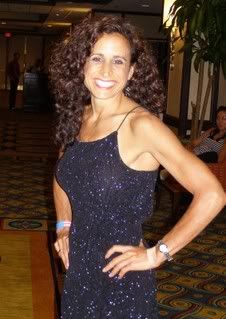 Ladyfest: How did you get started in salsa dance?


Dominique: I had been teaching junior high school for about 10 years when I did an activity with my 6th grade class about "What do you want to be when you grow up?" Well, as 6th graders will do, they asked me what I really wanted to be. I told them my dream was to be a professional dancer, so I promptly began ballroom classes the next month. That was about 10 years ago, and I have been performing and teaching ever since, including a big show at the Reno Hilton in 2000.



L: What do you enjoy the most about your art form?



D: I love performing and teaching salsa, swing, ballroom and zumba. I love to play with people and watch their inner magic spring forth. It seems like most people just need a little prompting, and perhaps a lot of permission, to let loose and find their artist within.


L: What is the most challenging aspect of teaching dance?


D: When someone resists their own creativity out of fear of looking stupid. There simply is no such thing as looking stupid, it is a mindset from youth that some people battle with well into adulthood.



L: Where do you get your inspiration?


D: My students and people who perform and social dance. My original inspiration for salsa and swing was going to dance conferences and watching people be so creative and dance naturally and spontaneously with each other. It looked like so much fun, and my heart would race with excitement just watching. Since then I have been to many countries and many dance events and watched people who love the art of partner dancing. It tells a story, it makes you feel connected to something bigger than yourself.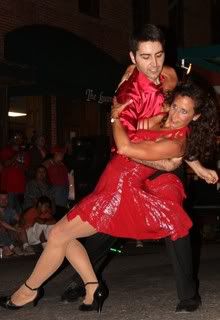 L: Do you feel that your gender has impacted your professional life in any way?


D: My mom told me when I was 16 to never depend on a man; meaning, find my place in the world. She never did that, and consequently she died of leukemia (perhaps from years of depression) when I was a 18. I know as a woman who owns my own business, my own house and runs two dance teams that I need to stay on the ball. I don't have time for distractions and bad attitudes. I am grateful for this kind of inner guidance and discipline beyond words. I love being a woman, who in this time in history, can do it all!



L: What advice would you give young women who aspire to enter your field?


D: In any field I would say find your passion early. Let it be YOUR OWN passion, not someone else's. What makes your heart sing? What seems a little out of your reach? What makes you want to give yourself completely? I started dancing at 32, and wished I had started at 12, but I found that it is never too late to pursue a dream.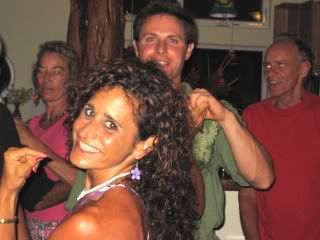 Dominique Del Chiaro will be giving the dance workshop "Spicy Salsa Shines" at 4:45pm as part of Ladyfest Nevada County.



Dominique can be reached on her websites at www.salsasierra.com and www.razzmatazzswing.com.

She can also reached by email at [email protected] or by phone at (530) 477-0767.