The first time I met Sasha Soukup of Sasha and the Shamrocks, we just sort of made noises at each other for about an hour---no real words, just little throaty animal, alien sounds. Somehow, not knowing how or why, we slipped from this reality and conjured a secret world where language was unnecessary, because we understood each other on a far deeper level. Maybe it's because we share the same birthday (November 19) or perhaps we were friends in a past life...fighting evil in an ancient land, partying flappers from the twenties...I have a feeling we go all the way back to the days of australopithecus afarensis, and that's why we made those strange noises at each other...whatever, it's a mystery that may never be solved. We've been friends now for about twelve years, and in that time I've watched and listened to Sasha grow as an artist, and I am always astounded by the range of her imagination and the fearless bravado of her performances. I decided to ask her some questions about her music in the hopes of sharing with you a truly original personality and performer.
Tammy: how is country livin' these dayz? do you feel
free of the rat trap? do you have more time and space to be creative out in the sticks?


Sasha: country living means sleeping under the stars, Sundays at the river, and plants and trees all around me. it is a much slower, quieter life... and not being overwhelmed with options sort of lets me be ten years old again. I have created more art in our three years here then in the previous ten years. but living in a community of 13,000 people also means a total lack of anonymity, which is sometimes suffocating, and sometimes comforting. every once in a while i need to get out, to soak in the bright lights and random magic of the city, but our cats Mouchie and Zazou clearly prefer the country. they like to climb trees and go on hikes.


T: many of your songs are autobiographical, do you find it
scary baring all of your memories, beliefs and fears for others to
dissect?


S: when I get possessed with the urge to express certain things, it's like I can't rest until they are outside of me. being brave enough to play my very personal songs live has made me grow up a lot, because I've had to decide over and over again that the satisfaction I get from self-expression is worth the horrible fifth-grade feeling of being naked and ugly in front of everyone. it has made me learn to be true to myself first.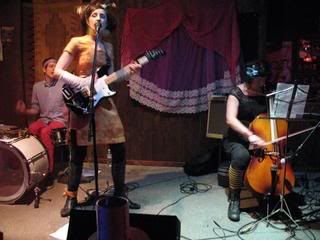 T: where do you find the characters and the words for your
songs? are they all you? am i crazy? are you constantly writing things down as they come to you? are you fantasizing all day long? how the hell do you write this sh*t?


S: the most exciting writing that I do happens in a kind of manic trance state, but I am married and we live in a small place, so I can't always be the psychic space-hog. but I have to have a creative outlet, or I get off-balance; so I have found that I can write in small bursts on my lunchbreak at work. this tends to create songs that develop slowly-- even over several months-- instead of coming out in one huge rush. sometimes the subject of the song will change completely by the time it's "done".


yes, i am pretty much fantasizing all day long, but whether it's a good, creative fantasy, or obsessive compulsive thinking about the state of politics or my bank balance really depends on how well I am harnessing my imagination.


I'm not actually sure if all of my songs are about me. I have to really feel something to write about it; but not all songs come from my own experience, so maybe some of it is channeling. now that sounds very mystical, but sometimes I channel ridiculous things, like bad French TV shows from the 70s. I write on scraps of paper, I have a tape recorder, and great ideas usually come in the car driving home from a good gig, or from extreme emotional turmoil.




T: what is your writing process? do you know what the song is going to be about before you pick up the guitar?


S: sometimes I have a general urge, like "I want to write a pop song with the chords from "Under My Thumb!", sometimes a whole song shows up unannounced. I like to have a couple of different songs coming together at once, so I can switch focus. thinking too hard about a song is the surest way to kill it.


the most dynamic songs come from me and Chris just jamming, and the final forms of the songs almost always come from a collaboration between us. Chris has incredible ideas about rhythm and also about structure.


T: the yellow hair is a murder ballad about killing your sister, yet you're an only child. did you borrow the story or are you exorcising the evil other inside of you with this one?


S: I'm obsessed with the genre of murder ballads-- I have no idea why. I think it is a socially accepted outlet for my inner morbidity. (once a goth, always a goth.) I like your hypothesis about the Evil Other inside of me. this question from the woman who thinks the soundtrack to Rosemary's Baby is party music! (:



T: how into witches are you?
S: I think that a witch-- a white witch, a good witch, however you want to put it-- is the greatest thing a woman can aspire to be. people are afraid if magic, but it is all around us. most of the universe is invisible. a witch learns to perceive and work with these natural energies. my mother grew up in Southern Ireland, so I am not very far removed from my pagan roots. I do a lot of sorcery in the blogosphere... me herbal blog is called Kitchen Witch!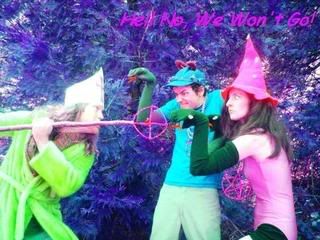 St. Patrick attempting to drive the pagans out of Ireland, as recreated by Sasha and the Shamrocks

T: who writes the best stories that you are so jealous of that you didn't write them first?


S: currently, I am obsessed with Francesca Lia Block (Weetzie Bat) and Peter S. Beagle (The Last Unicorn). I have fallen in love with the Young Adult section at my library. a friend of mine does a blog where she is always talking about what she's reading, and she really re-ignited my love of books. When I read a lot, I am a much better writer.



T: in the song 'driving at night' you write about being a pizza
delivery girl and falling in love with the security guard at a gated community. in it, you sing 'you are the guardian and i am on fire.' is it easy for you to make the jump from the mundane to the extraordinary?


S: I think my whole brain is a mix of the mundane and the extraordinary. thank you for noticing that line! my habit of leaping from the Totally Out There to the Totally Practical still confuses Chris, even after all this time. I blame my Capricorn Rising and Moon in Aquarius. also, there is that little matter again of the Invisible World. just because something looks normal, it doesn't mean it is. take a pizza delivery girl, for example... there could be a lot going on under that Round Table uniform. I would know.


T: who are your top three female rock heroes?


S:

1. Yoko Ono

2. Neko Case

3. Carla Bozulich


T: who would direct your life story?


S: Agnes Varda. With some help from Guy Maddin.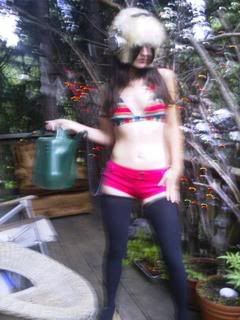 T: i want to mention some of my favorite songs, and in five words or less you tell me how they were inspired:



a) charmed viola: las vegas, fungi, barbie dolls

b) happy anywhere: moving, staying, coming, going

c) scorpio girls: pen pals, desperation, first love

d) let's play princess: loneliness, invisible friends

e) hms endurance: Os Mutantes, perseverance, February, lust

f) annabel lee: media, feminism, fake feminism



T: where do you get your inspiration for your hair and your costumes?


S: i pull from the flotsam and jetsom of thrift stores and storybooks. I am imprinted with my mothers fashion sense from her days of being single in San Francisco in 1965-- I had a Dress Up Trunk full of those clothes when I was growing up. I can also be found in the movie theater lapping up any and all period pieces... all film snobbery goes out the window when there are good costumes. as far as onstage fashion goes, my number one rule is to avoid subtlety at all costs.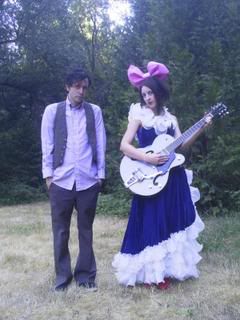 T: do you see a kind of particular evolution when it comes to the content of your songs?
S: I notice two themes coming up again and again in my work: first, there is the painful awareness that we can only live one life, have one love, at a time. secondly, there is the theme of a desire to bring hidden things to light. that could mean parts of my own life story, my ancestry, or events and themes from broader human history (like witch burnings!). I am fascinated with hidden things, things no one talks about, things no one else sees. my expression of these themes has changed, as I've moved away from a folkier kind of singer-songwriter style into more pure Rock. it is challenging for me to write about personal things and make them universal-- it is easy to create your own little world, and describe everything inside of it, but if someone else can't hear your song and make their own understanding from it, you have failed. I didn't use to feel that way-- I was happy to write in code, or in explicit personal detail. I still value the songs from that time, but they are like very pretty diary entries... now I want to paint big public murals. I feel that the Ultimate Song is about things that are important and need to be heard by everyone, but is also irresistibly catchy-- and danceable.



Sasha and the Shamrocks will perform as part of the Ladyfest Nevada County evening concert. Show starts at 7pm.


You can download Sasha and the Shamrocks songs for free from their Myspace page, and purchase CDs at their live shows.


Interview by Tammy Fortin.


Tammy plays in the all-girl San Francisco psyche-pop band Excuses for Skipping, and she is a regular writer and videographer for the SFMOMA blog Open Space.