Nevada County loves good food. We are home to several CSAs (also known as "farm shares"), one CSK (Community Supported Kitchen), four thriving health food stores, a handful of organic restaurants, a Slow Foods chapter, a Local Foods Coalition, and-- if you're in the know-- even an Underground Restaurant or two! And for those of us who don't know an apple from a rutabaga, or just want to refine our cooking skills, there are inventive and exciting cooking classes happening all over the County. We are so happy that the talanted and effusive Wendy Van Wagner, director of
In The Kitchen with Wendy Van Wagner, will be cooking up some fabulous seasonal local produce in her workshop at Ladyfest Nevada County. Who better to interview Wendy then one of our other young and gifted local chefs, Graham Hayes of Nourish Wise. If you hang out with either of these two characters for long enough, you're going to have an interesting conversation, and you're going to get fed. My kind of people!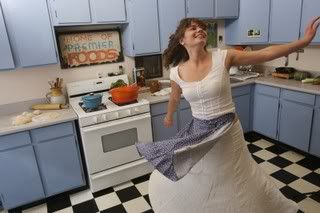 Graham: It takes just one quick glance through your adorable website to see that you aren't only an extremely well rounded chef, but that you bring a familiar yet strikingly unique approach to modern culinary arts. Tell me how you became interested in cooking.


Wendy: It's sort of a funny story, I guess. Because I studied cultural anthropology in college, but I worked in this restaurant the whole time I was in School. It started out that the kitchen felt like the place to be; it was really warm, there was this amazing women that was the manager. The moment I stepped in there I thought 'I want to work with her, she seems like she has a lot to teach.' So I just started working there as a job, I had a great time being in the kitchen and I ended up working there for 4 year, and I was like, 'what am I going to do' - I guess I hadn't thought about it after college - 'what? I have to get a job!'


G: So cooking was a job on the side, it wasn't something you were
focusing on in school?


W: Exactly. But what ended up happening was that a lot of my cultural studies ended up overlapping with cooking. So when I was out in the world for the first time with no school, and I was just sort of grasping for anything, just trying to get it together - I thought, 'well I really like cooking, maybe I will just cook for different people.' I was living in this town, Claremont, and I just put a flyer up that said, "meals prepared twice a week and delivered. Who knows who will answer? And a few people answered, and finally I had 5 families that I was cooking for twice a week. I had some awesome meals, and I had some super failure meals. One family said, "You know, my kids just can't eat what you cook, I'm going to have to discontinue your service." Which was a totally humbling experience, but I kept going. I became interested in nutrition, so I moved to Berkeley and I studied nutrition education at Bowman college, but I always wanted to teach cooking classes. So I started teaching to kids through different public school things, and I moved to San Francisco with this vision of what I wanted to create. I knew I wanted to do this thing, that I was creating. I just needed to actualize it. So I posted something on Craigslist; I said, 'a cooking class, Tuesday night 6:30 - 9' and I got a few responses and these people came to my place. And it basically it evolved from there; from this really basic getting together of people in an non-intimidating environment to cook and be together and share a meal. That's the long of it, or the short of it, I don't know.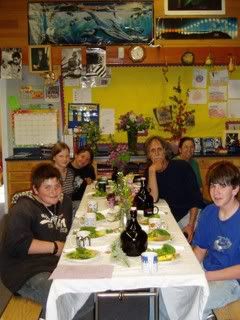 G: At what point, when you left college did you feel confident that you could make a career out of it?


W: Well in my mind, it was pretty much immediately, and I guess I just started doing it - but I was learning as I went. I certainly didn't feel confident enough to do what I am doing now, until 3 years ago when I made that first attempt at having cooking classes.


G: How long have you been cooking in general, or been involved in the kitchen?


W: I guess eight years.


G: Your work clearly has a strong emphasis on local, organic, and nutritionally balanced meals. I am curious how these elements became a part of your cooking practice, and if any of the initial farm-to-table women chefs like Alice Waters, Nora Pouillon, and Jessica Prentice played any role in inspiring that in you.


W: When I initially had started that really small meal delivery thing, in Claremont. I was living in this co-op and we had a farm that was in conjunction with it. So i was really around all of that, agriculture
that my friends and I were growing, and it only seemed natural to incorporate it. And that was really the first time any of that came into my consciousness, I was like, 'Oh wow! Not only does it taste better, but it actually feels really good to be part of growing this food.' And then, of course, taking it to the next step. I feel like I have seen examples of like, 'wow, it's so cool to grow your own food.' and then me even feeling that, but then not making the connection of how awesome it is to actually make that a part of your diet. It was like, they were two separate activities until I was living this lifestyle that allowed for that. And then all the other pieces started to feel like they were falling into place, with this concept being part of a greater consciousness happening - oil, and all of that. I worked with Jessica Prentice when I lived in the Bay Area, and she was doing Full Moon Feasts, and it was before her book came out and gained momentum. And I called her up and said, "Wow! I really want to be part of this, can I help on one of your diners just to see what you do." She was basically trying to live and work how she sees the world. When I last saw her, it looked like it all was coming together for her, and she was making a viable lifestyle for herself out of these passions that she has, which I have so much respect for and I am constantly finding that, that is my goal to build a sustainable lifestyle -that word is so cliche now - but a lifestyle based on doing something you love which is positive for the world. But, Alice Waters, when I lived in Berkeley, she's a rock-star - her whole thing is very glamourous and awesome and she has the right kind of personality that has really been able to spread this info to a greater audience.


G: It seems these woman, and other women in general have played a really crucial role in real and local food resurgence -


W: I really think that women and food has a natural connection. Women are nurturers, not that men aren't -


G: Breast-milk is a great example - you have food built into your physical structure.


W: Yeah, it's ironic, that women are just, in only the last 30 years, becoming renowned for being chefs - where did that disconnect happen?


G: The history of food is so peculiar, I am baffled by that myself. Somehow I geeked out and watched Top Chef all least season - which was the first time a woman had won Top Chef. It was interesting to see how significant of a role sexism and gender issues played in the Top Chef discussion groups. Talking about, this woman should have won, but didn't because she was a woman, and things on that note.


W: Granted, I have never seen one of those cooking shows, so I am totally judging it off of what I imagine it to be which is that it's all just a competition. And I just don't think that is where women are coming from in terms of cooking.


G: Right, and what makes Top Chef interesting, is that you see this
side of these women contestants that is very competitive, and aggressive and ready to rock.


W: I'm just not into it. It's putting competition and weird power dynamics on a really basic thing like cooking. The content doesn't matter, it could be anything, the power dynamics are what makes people watch it.


G: On that note, being a women in this competitive world of cooking, especially in the restaurant industry, there are certainly disadvantages. In that men have pretty much been the restaurant industry for so long, since the industries inception really. So you are more likely then not to be working under a man, if you are a woman working in a restaurant. I am curious, in the local and organic food industry, which you have created a niche in - have you found advantages or disadvantages to being a woman? Are there any that are gender-based in this particular faction of the industry?


W: I don't really know how to answer that. I worked in this sophisticated, high-end restaurant that was run by a man and a woman. She was a very powerful lesbian woman, and he was the more fun business partner, and he was gay and they really had different dynamics then the ones you are describing. I was pretty low on the totem pole though, so no matter what I would defer to whoever was above me. And in that situation it wasn't about gender, it was just about my experience.


G: That seems to be the way it is in the progressive food world. We can say men this or women that, but obviously not everyone lives up to the cultural stereotype.


W: Honestly, I feel like those sort of dynamics are actively trying not to exist in this movement. It's more egalitarian.


G: Definitely. Now that you have come back to your home of Nevada City, and you have immersed yourself in the local food community here. Where is our community at in relationship to the macroscopic local food movement? All around the world these incredibly progressive and sustainable measures are being achieved toward local food security. How are we doing here in relationship to the greater world, and where are we going?


W: If you look around this county, everyone is doing something or starting something, and I just feel like, 'the more the merrier.' Someone grows basil in their yard, and another person grows blueberries, and the more of that networking we have, the possibilities just grow.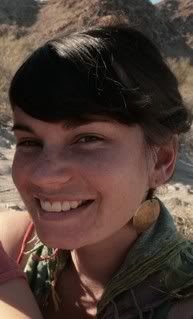 Wendy Van Wagner will teach the workshop "Cooking with the Seasons- Spotlight on Fall" at Ladyfest Nevada County. For a full workshop schedule go here.


Interview by Graham Hayes. Go to Graham's website, Nourish Wise, for more information about his cooking classes, Community Supported Kitchen menu, and catering services.